Ying Ying is the third boss in BRAAAINS. It can be fought once level 30 is reached. Killing him will give its essence (Essence of Ying), a clothing with +26 defense and 10 Brains for the achievement "Pandawop" for killing him.
Ying Ying is a panda and a robot like
Miffles
.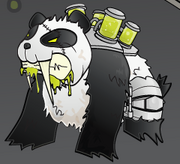 Community content is available under
CC-BY-SA
unless otherwise noted.